When I was growing up, I had vivid dreams at night of things a child had no business imagining, and during the day I saw living shadows and knew things a child couldn't possibly have known. And so, when I was introduced to the occult, I knew it was where I belonged. I studied witchcraft thinking to be a witch meant I had to be an herbalist, a poisoner and healer with plants, and that I had to accumulate an arsenal of glass jars and bottles and curious trinkets with secret powers. I developed an intense desire to be that wild old woman who lived apart from everybody else, someone half mad who spoke in tangling riddles, saw what lay in the minds of
men and knew of things to come. I yearned for the secrets found in dark places, I divined with cards because it brought me knowledge, and the awe of others was power in my hands. Meditation gave me self control and spells, which had to be complicated, scripted, serious business, were all about getting what I wanted. By the time I was a teen, I was sending my spirit to places I did not know, seeing things I could not fully comprehend, and the unseen people to whom I was sensitive began to toy with me. The truth was that for all my gifts, I was powerless and for all that I had accomplished, I knew nothing. Growing up, I was sure I was a witch, I just didn't understand exactly why or how. I was doing the right things, but for the wrong reasons, and that crippled my development. It would've been nice to have a mentor to set my spinning compass due North, but I had to learn important lessons all on my own, lessons like humility and surrender.
All that I am not clouds all that I will ever be.
It really is best to be honest with oneself, that makes what has to be done a little easier. The truth is, after all these years, I'm still not good with herbs. Sure, I love to garden, but despite the tomes I've read and the books of recipes I've copied, the trick to plant-healing eludes me. Oh, I understand the metaphysical properties of plants as applied to spellwork, but mundane, actual herbal healing isn't my cup of tea. With time I've come to separate from my pride and ego, and to embrace things as they are. Although I'm still sensitive to unseen entities, I can't help but feel a wee bit creeped out by them. And I don't like having a clutter of jars and bottles and mystical doodads laying around for the dusting, I don't need those things. These days, witchcraft is not about power and command, but wholeness and harmony. If ever I'm apart from other people, it's not because I have been feared and ostracized, but because there is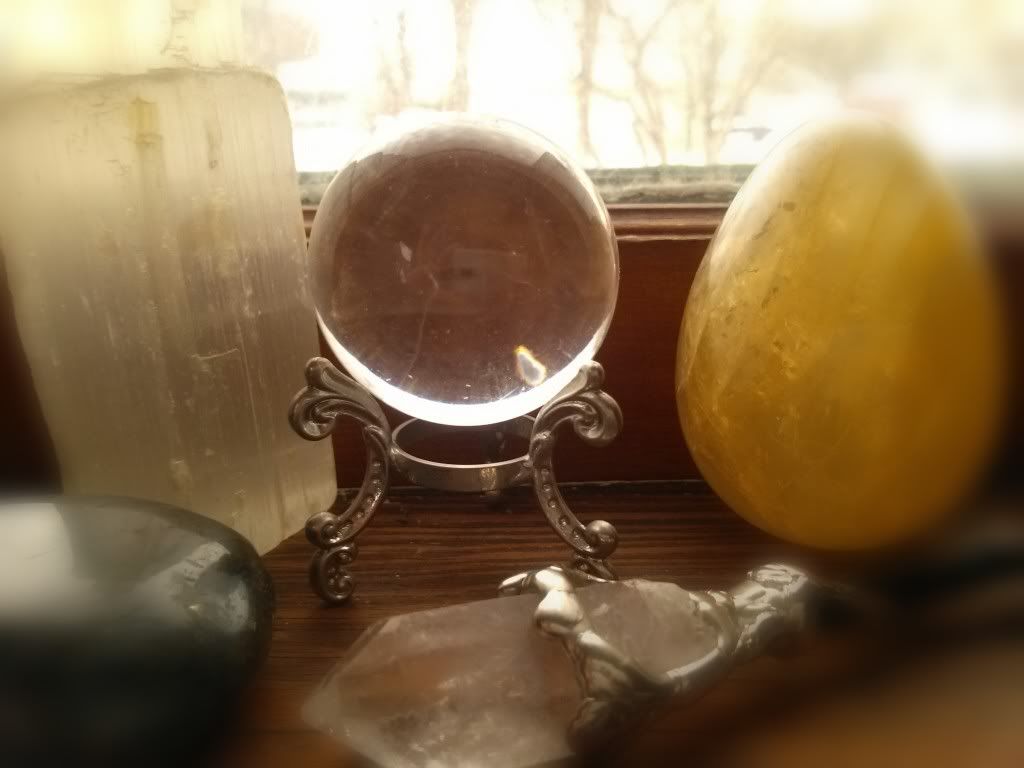 love to be found in solitude and wisdom to be gained from listening to nature. Yes, I still feel the mystery in moon shadow, but also the vitality and abundance of sunlight. Now, if I read cards, it is mostly to prepare myself for work to come. Meditation is no longer about controlling my mind, but expanding my consciousness and opening my heart. As for spellwork, Practical Magick makes more sense to me than High Magick and the Goddess is not a means to an end; She is I and I am She. My work may not involve a boline and esoteric symbols, but I sure do understand the language of animals and gemstones. I am a drummer, a prayer, a seer, and a hearer of sacred messages. I am a peace-weaver and devotee. I couldn't have appreciated this when I was younger as I had learned magick before I had found spirituality.
Working one's medicine is not a social statement.
Every now and then I catch myself still trying to cram me into that old box. Because the road I travel today is so drastically different from the path where I began, I get to wondering whether I've come to find myself at last, or if instead I've lost some core part of me somewhere along the way. I look at the work of other pagans and witches, individuals who seem more intense or glamorous in their work, and I can't help but to compare myself to it, can't help the brief twinge of jealousy at seeing someone who knows just as much if not more than me. It makes me doubt how far I've come and question my own dedication and worth (which is actually very silly when you consider this image is merely a public projection of how these people want to be seen.) I suppose one major fear of mine is that I've become the dreaded "fluffy bunny" who everybody jeers at, all light and love. But that's just one more thing I have to be honest with myself about not being. I have to accept that I am not an imposing person, I am not the intimidating or spooky witch I once set out to be; my deer medicine is much too predominant for me to be anything other than gentle and loving. Boring—yes, I know—but true. My optimistic nature has not blinded me to the shadows; even in the brightest light, mine will always be right behind me. I know she's there, I feel love and compassion for my shadow self, but it's important to keep her in check. It's important to see what we are not so that we are free to become who we truly are. Once we've accepted our gifts, however big or small, we become more powerful in them. Maybe, in the end, I'm not a witch at all, for that word has become convoluted by many arguments. No matter what the label, no matter what the work, so long as it brings us wholeness and goodness, then it is right.